DSOH #374 - guestmix by DJ SPEN
Thank you for rating this article.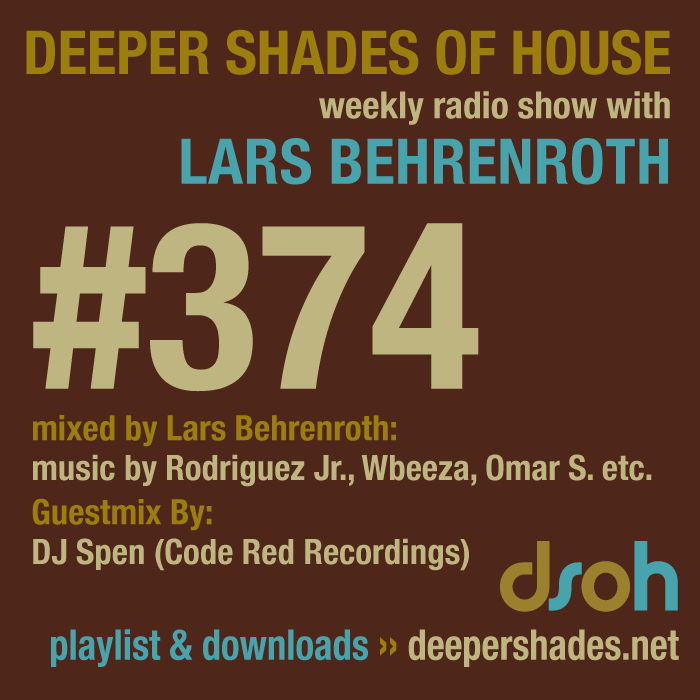 DOWNLOAD FIRST HOUR
LOGIN / REGISTER TO DOWNLOAD SECOND HOUR
Login Or Go Premium To Download First Hour - TALKFREE
1st hour
mixed & presented by Lars Behrenroth
artist - title - label
Rodriguez Jr. - Massilia - Mobilee
Crackazat - Bouncer Pounce - Beyond Jazz Vol.4
Estetique - Insomnia - Artizan Music
K-Bana - Jive (Soul Minority Jumeirah Beach Club Mix) - Night Drive Music
Valentino Guerriero - Flying Without Limits (Original Mix) - Footmusic Records
Wbeeza - Laying Here - Third Ear
Matthew Styles - Scale - Running Back
Omar S. - Here's your Trance, now Dance (Shadow Ray Rmx) - FXHE
only on Ustream Video Archive:
Daniel Bortz - I'm Talking - Circle Music
2nd hour
Exclusive guest mix by
DJ Spen
(Code Red Recordings)
# - artist - title - label
Liquideep - Angel (Dj Spen & GARY HUDGE Remix) - Tribe
Quincy Jones - Betcha Wouldn't Hurt Me(Dj Spen Re Edit)
Avery Sunshine - Ugly Pt Of Me (Terry Hunter Mix) - T's Box
So Phat - A Love bIZZARE (SOLOMUN REMIX) - Peppermint Jam
MARC EVANS & N'DINGA GABA - MY HEART REMEMBERS (DJ SPEN RE EDIT) - CODE RED
JOHNNY DANGEROUS - NYC - VEGA
BARBARA TUCKER - LOVE THE HURT AWAY (DJ SPEN & THE MUTHAFUNKAZ REMIX)
tHE MUTHAFUNKAZ - OH I (MISS U) ATJAZZ LOVE SOUL REMIX - CODE RED
Matthew Bandy feat. Josh Milan - Wish (Frankie Feliciano Ricanstruction Vocal Mix) - FOLIAGE
EP1 - I&I (Kaje Trackheadz Inst)
HOUSE OF GYPSIES - SAMBA - FREEZE.