DSoH #340 - guestmix by Si Finnegan
Wednesday, September 1st 2010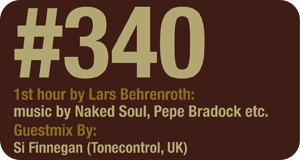 If you enjoy this program on a regular basis, please consider donating.
1st hour

mixed by
Lars Behrenroth
special one hour vinyl set. just picking some random gems out of the shelfs

title
-
artist - label
Naked Soul - So Happy (Glenn Underground Touch Of Happiness) - Nite Life Collective
Marvin Dash - Friday Night Burnt Reynolds (Model Turned Programmer) - STiR15
World, Sky, and Universe - The Answer - Prescription
Azymuth - Jazz Carnival (Space Jazz Mix - Global Communication Remix) - Far Out
R Factors - Perception - Touche
Africansim - Les Enfants Du Bled - Africanism
Pepe Bradock - Life - Atavisme
Vincenzo - Peace Is Not The Word To Play (I:Cube's Vocopops) - Dessous
The Enigma - Man On Fire (Puzzle Project) - Eargasmic
Larry Heard - Missing You (Theo's Missing Dub) - Trackmode
International Pony - Leaving Home (Akufen Remix) - International Pony
Video Live Streamed and Audio Recorded Mix Only - Not Part Of This Show:
Urban Tribe - D-2000 - Mo'Wax
Kemit Sources - Bor Dlan - Versatile
Rick Wade - Odyssey (Tracks From The Park Vol.1) - Trackmode
2nd hour
Exclusive guest mix by Si Finnegan ( Tonecontrol , UK)

# - artist - title
-
label
1. Justin Drake - Cosmic Log - No. 19 Records
I wanted to kick off with one of the many records Lars has put me onto on the show, and I just love the layered breaks on this
2. Cassio Ware - Baby Love (Chord Mix) - Easy Street
One of the many amazing Blaze productions from the early nineties - Cassio Ware is one smooth vocalist!
3. The Plany Herbs - Disco 2080 - Wax On records
Comin' from the Netherlands i believe on the Nightmares on Wax label - respect to Andy Meier Lansky for sending this one over
4. Tone Control - Illusion (Tone Controls unreleased remix) - Tone Control Music*
Unreleased Tone Control pressure!
5. Ethyl and Flori - Malmoe - Quintessentials
Loving these guys work at the moment - haven't heard a bad release yet
6. Tone Control ft. James B. Coleman - Without Your Love (Original Extended Mix) - Tone Control Music*
This is our new single - Hope you like it! Out end of August on Traxsource...
7. Tomson & Benedict - Rainy Things (Telepathy Dub) - Freerange
Manchester meets Stoke, in a Kerri Chandler dream! Shouts to these guys, they did a great mix on our new single
8. Fuminori Kagajo ft. Adeola Ranson - Piece of Heaven (Sean McCabe Paradise Vox mix) - King St. Sounds*
I was lucky enough to co-write this song for Fumi and his 5 piece from Sapporo, with Adeola, one of the most talented singer-songwriters i know. Having Sean remix this was just the cherry on the cake!
9. Kay Suzuki - Music ft. Babbacar Dieng & Jally Kabba Susso (Atjazz remix) - Round in Motion
Wow... I don't believe its possible to deny this rhythm.
10. Darque - Greatest Man - Smooth Agent
South Africa via one of Chicago's finest labels. Deepness!
11. Tone Control ft. Adeola Ranson - Take Me Away (Jose Carretas Vocal mix) - Tone Control Music*
Jose and Kaidi Tatham team up to make a beautifully warm rework of our song from the spring.