DSoH #300 - 2h Classic House Special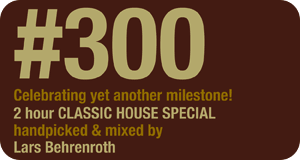 DEEPER SHADES OF HOUSE #300
Classic House Special

Download Part 1
Download Part 2
---
two hours Classic House mixed by Lars Behrenroth
1st hour

artist - title - label
Michael Jackson - Rock With You (Frankie Knuckles Rmx - Motown
Soul II Soul - People (Timmy Regisford Rmx) - Virgin Records
Incognito - Always There - Talking Loud
Aswad - Shine (Todd Terry Rmx) - Mesaq
Longsy D - This is Ska (Zanzibar Version) - Warriors
Romanthony - Hold On - Black Male
Global Communication - The Way - Dedicated
Abacus - We Cookin Now - Guidance
Mousse T - Everybody - Nice'N'Ripe
Mental Instrum - Should Be Dancin' (12" edit) - Freetown
M&S Pres. The Guy Next Door - Deeper (Epic Dub) - Strictly Rhythm
2nd hour
artist - title - label
Dream Team - Love Is What We Need (Benji's BC Mix) - Freeze
Jovanotti - L'Ombelico Del Mondo (Boris Dlugosch Remix)
Barbara Tucker - Stay Together (Ravin' Mix) - Strictly Rhythm Blue
Voices Of Life - The Word Is Love (Anthem Of Life) - AM:PM
Kings Of Tomorrow - Fade II Black (Ruff Flutapella) - YoshiToshi
KOT - Fade II Black (Original Mix) - Yoshitoshi
Shay Jones - It Doesn't Matter To Me (MDZ Dub) - Maxi Rec.
Vaness Daou - Two To Tango -
MAW - I Can't Get No Sleep (Kenlou Mix) - Cutting Crew
Byron Stingily - Get Up! (Analogic Club Mix - Boris Dlugsch) - Peppermint Jam
95 North - Who's Hoo? (Club Mix) - Henry Street
Full Intention - I Love America (Todd Terry Rmx) - Big Beat
Ashley Beedle - New Jersey Deep - FFRR
Deeper Shades of House is a 100% listener supported program
We need your help to keep it going and pay for all related costs.
Please consider becoming a
Premium member
and gain access to exclusive mixes and shows!
Go Premium And Support Deeper Shades Of House
Tags: Classic House