DSoH #277 - guestmix by JAY TRIPWIRE
Tuesday, January 6th 2009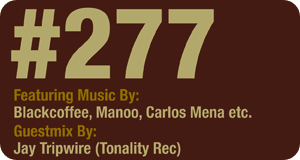 1st hour

mixed by
Lars Behrenroth

artist - title - label
Paulo Olarte - Siluetas (Roberto Rodriguez Remix) - Galaktika Rec
Blackcoffee feat Bucie - Turn Me On (Raw Artistic Soul Vocal Dub) - GoGo Music
Sage Monk - Baram Bakie (Main Mix) - Offering Rec.
BLM & Pawas - Down Down - Fear Of Flying
Milton Jackson - Rhythm Track (Jimpster Rmx) - Freerange
Manoo - Abyss (Original Mix) - Deeply Rooted House
Marvin Belton - Any Day Now (Elektro Main Mix) - Ferrispark
Crowdpleaser & Ly Sander - Walking Home (Beats) - Drumpoet Community
Carlos Mena - Drawn To Her (Ezel Rmx) - Ocha Rec
Runaway - Brooklyn Club Jam (Tedd Petterson Rmx) - Rekids
2nd hour
guestmix by
Jay Tripwire (Tonality - Canada)
artist - title
King Sunshine - Love Your Brother(AbacusMix)
Whare - Space Odyssey (Westpark Unit Remix) JAYTRIPWIRE_EDIT
Bittersuite - eclipse
Guestroom 6 - Danser med ulvene (ray okparas sight mix)
Trus me - no check(jay tripwire edit) - prime numbers
actor one - stay (original mix)
Bearweasel - Many More
ray okparas - loving moonbuah - drum poet
Pedramovich - Hotspot - Supernature
MINDTECH - Deep South j tripwire re edit
G.Family ''Night shift'' (Dubbin Dark Wmathew bandy beats dub)
Liapin - Redskin beats
Liquideep - love your life (lars behrenroth remix) (jay tripwire edit)
Cid & Niota - Na Wuti Musika (Nomumbah Remix)
Birds Afrilounge Velvet Monkey_Dub
Boris Horel - Is That A Yes (Bearweasel Dub)
jay tripwire - i see a city in the clouds
jay tripwire ft alexander east - do me this way 2010 rework
Lerosa - Triage - Quintessentials
Sandrino Adryan - Otelu Rosu

Support Deeper Shades Of House
Exclusive Live DJ Sets and selected talk free shows
Premium Podcast
Store Discounts
Download all new Deeper Shades Recordings releases FREE
EXECUTIVE PRODUCER credit
GO PREMIUM
Leave a Voicemail or Text
+1 313 444 3764

DSOH MEMBER LOGIN
Click register if you don't have an account yet. Basic membership is free.
LARS BEHRENROTH LIVE STREAM SCHEDULE
"MY COLLECTION" All Vinyl - MONDAYS


10am LA / 1pm NYC / 6pm London / 7pm Berlin & Johannesburg
#PromoTUESDAYS


10am LA / 1pm NYC / 6pm London / 7pm Berlin & Johannesburg



Lars Behrenroth LIVE In The Mix - WEDNESDAYS


11am LA, 2pm NYC, 7pm London, 8pm Berlin & Johannesburg