DSoH #276 - guestmix by TONY LIONNI
Tuesday, December 30th 2008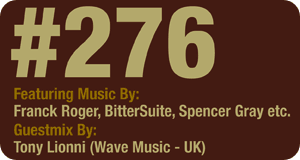 1st hour

mixed by
Lars Behrenroth

artist - title - label
Ananda Project - Cascades Of Colour (Joe Claussell Rmx) - Kingstreet
Franck Roger - The Final Frontier - Real Tone Rec.
Bitter Suite - Eclipse - Deepsystems
Deepa Grooves feat. Chrisitine Vaindirlis - What About U (CWebster Rmx) - Deepa Grooves
Black Science Orchestra - Save Us (Motorcitysoul Rmx) - Junior Boys Own
Knee Deep - Vibin' (French Love EP) - Knee Deep Rec.
Luis Radio & Raffa feat. Tony Loreto - Workout (Main Mix) - Seasons Rec
Spencer Gray - Precious (Original Mix) - Loveslap Rec.
Lars Behrenroth - Dinner Time - Deeper Shades Rec. / unsigned
2nd hour
guestmix by
Tony Lionni (Wave / Versatile / Mule - UK)
# - title - artist
1. Takas Grove, Blakdoktor
2. Standing, sis burak CDR
3. CDR ?
4. Profundo, Sforzina Alen & Riccardo
5. Mushroom, Marshall Jefferson, Noose heads
6. Shindoe The peacemaker, sound travelling remixes . Deetron rmx.
7. Youll Shine. Markus Enochson
8. Fugu, David K.

Support Deeper Shades Of House
Exclusive Live DJ Sets and selected talk free shows
Premium Podcast
Store Discounts
Download all new Deeper Shades Recordings releases FREE
EXECUTIVE PRODUCER credit
GO PREMIUM
Leave a Voicemail or Text
+1 313 444 3764

DSOH MEMBER LOGIN
Click register if you don't have an account yet. Basic membership is free.