DSoH #275 - guestmix by ALLAND BYALLO
Tuesday, December 23rd 2008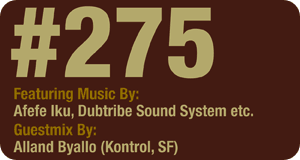 1st hour

mixed by
Lars Behrenroth

artist - title - label
Trackleton - When my sequencer gently weeps (Jump EP) - Y.O.R.E.
BLM & Pawas - Cooper - Fear Of Flying
Niko De Luca - Alone In Afrika (Arnaud D Rmx) - TriCircle
Afefe Iku - Mirror Dance (jojoflores Yoruba Soul Edit) - unreleased
Reel People ft. Omar - Outta Love (IG Culture Inter Outta Dub) - Papa Rec.
Dubtribe - Do It Now (Hamburg to London Mix) - ROI
Crowdpleaser & Ly Sander - Walking Home (Kalabrese Remix) - Drumpoet Community
Ed Davenport - Eyespeak (Nick Hoeppner Remix) - Liebe*Detail Spezial
Midi Drop Music - Chordroy Frenze (Chubby Dubz Remix) - Loudeast
Delano Smith - Synergy - Third Ear
2nd hour
guestmix by
Alland Byallo (Nightlight Music - Kontrol, SF)
# - artist - title - label
01: Big Muff - My Funny Valentine (Francois K's Trippy Dub) [Maxi Records]
02: Brothers' Vibe - La Timba [Mixx Records]
03: Kreon - Jauce [Cecille Numbers]
04: Oscar Barila - Tampa [Unreleased]
05: Franck Roger - Take Off (Matt 'That's House' Bonus Beat) [FR Productions]
06: Scott Grooves - La Riddum [Clone Records]
07: Lee Curtiss - And Counting [Wolf + Lamb]
08: Dave Aju - First Love [Circus Company]
09: Matthew Styles - We Said Nothing [Diamonds & Pearls]
10: Matthew Dear - Free To Ask (D'Julz Remix) [Get Physical Music]
11: Blaze - Lovelee Dae (LoSoul Rest In Respect) [Playhouse]
12: Zander VT - Get Down [Bpitch Control]
13: Motorcity Soul - Hatohay (Move D Remix) [Simple Records]
+ DOP - Between The Blues [Circus Company]
14: Arnaud Le Texier & Emmanuel Ternois - Serendipity [Safari Electronique]
15: Rene Breitbarth - Sphere [Deep Data]
+ Trus Me - Narda [Fat City Records]

Support Deeper Shades Of House
Exclusive Live DJ Sets and selected talk free shows
Premium Podcast
Store Discounts
Download all new Deeper Shades Recordings releases FREE
EXECUTIVE PRODUCER credit
GO PREMIUM
Leave a Voicemail or Text
+1 313 444 3764

DSOH MEMBER LOGIN
Click register if you don't have an account yet. Basic membership is free.
What's up Deeper Shades family,
I just upgraded the comment system on this website
to allow those without a Facebook account to also participate.

Comments are now active on most pages on this website.
Sadly, all previous comments are gone, but this only means that it's time to make new memories :)
Keep It Deep,
Lars Behrenroth