DSoH #274 - guestmix by FABIO GENITO
Tuesday, December 16th 2008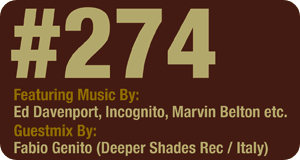 1st hour

mixed by
Lars Behrenroth

artist - title - label
Code 718 - Equinox (Henrik Schwarz Dub) - Strictly Rhythm
Ed Davenport - Eyespeak (Motorcitysoul Rmx) - Liebe*Detail Spezial
Duality - Lake Michigan (Jay Tripwire Edit) - Tonality
Jaide Neveda - Sunday (Jason B Mix) - MN2S
G.Family feat. Antonio Lyons - Night Shift (Phoonshai Dub) - Real Tone Rec.
Incognito - Happy People (Christian Prommer Rmx) - Heads Up International
Sinan Baymak - Deep Morning - Deeper Shades Recordings 007
Marvin Belton - Any Day Now (Elektro Main Mix) - Ferrispark Rec.
Men With Sticks - 3rd Eye (Dixon's Mash Up Edit) - JBO Revisited
2nd hour
guestmix by
Fabio Genito (Vega Rec / Deeper Shades Rec - Italy)

check out Fabio Genito - Papawenda - Deeper Shades Recordings 004
# - title - artist - label
1. Geology "Sunday Morning" (Moodymann Rmx) (cdr)
2. Volcov (aka Isoul8) "Fridays" (cdr Neroli)
3. Frankie Valentine "Zumbi" (Henrik Schwarz Rmx) (Sunshine Enterprises)
4. Rivo "The Hermit" (cdr)
5. Osunlade "Momma's Groove" (Nomumbah's Rmx) (Strictly Rhythm)
6. Fabio Genito "Secret Recipe" (FG Good Times In Roma Dub) (cdr Vega)
7. Fabio Genito "Burning Man" (FG Black Rock City Moods) (cdr)
8. Fabio Genito "Papawenda" (FG Organic Beats) (DSOH 004)
9. Jojoflores & Jo Di Padova "Yes Smoke" (Original Mix) (DSOH 001)
10. Boddhi Satva "Punch Koko" (Dub) (Vega)
11. Afro Celt SoundSystem feat. Sinead O'Connor "Release" (Scott Wozniak Rmx) (cdr)
12. Louie Vega "Mozalounge" (Original Mix) (Vega)
13. Glenn Underground pres. The SJU Project "Musical High" (cdr)

Support Deeper Shades Of House
Exclusive Live DJ Sets and selected talk free shows
Premium Podcast
Store Discounts
Download all new Deeper Shades Recordings releases FREE
EXECUTIVE PRODUCER credit
GO PREMIUM
Leave a Voicemail or Text
+1 313 444 3764

DSOH MEMBER LOGIN
Click register if you don't have an account yet. Basic membership is free.