DSoH #273 - guestmix by JOJOFLORES
Wednesday, December 10th 2008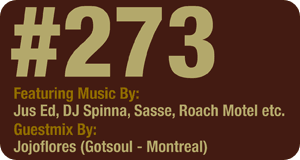 1st hour

mixed by
Lars Behrenroth

artist - title - label
Rozzo - Azzuro (Secretsundaze Vol 2 Sampler) - Secretsundaze
Jus Ed - Project 36 - UQ
DJ Spinna & Ovasoul7 - You Should Be Loving Me (Original Organic Vocal Mix) - Wonderwax
G. Family feat. Antonio Lyons - Night Shift (Dubin Dark Dub) - Real Tone
Toni Braxton - Spanish Guitar (JC Modulated Dub) - white
Sasse - Break Up (Timewriter Droit Up Mix) - Mood Music
Roach Motel - The Night (Marlon D & George Mena NY Vibe Rmx) New Version - Junior Boys Own
4 Ears & Lady Bird - Can't Be Without You (Benny Pecoraio Must Be Sax Dub) - Iwanai Rec.
Shana - Uyangichomela (Ralf Gum Deep Mix) - Gogo Music
Sinan Baymak - Brazoul - Deeper Shades Recordings 007
2nd hour
guestmix by
Jojoflores (Gotsoul Rec / Therapy - Montreal, Canada)
artist - title
Rejazz – Gabrielle
Jimmy Abney - More of You (Trinis Island Mashup Remix)
Kiko Nivarro – Sopanda Contigo
Doruk Ozlen - Lovers in Motion
Dennis Ferrer – Touch The Sky (Remix)
Sacha – Journey (Trini Yoruba Style Remix)
Afefe – Mirror Dance (Yoruba Soul Mix)
Power Douglas – RVRSR
Claude Monnet - Megouli Awassee
Incognito – Happy People (Christian Prommer)
Ezel - Mi Congo

Support Deeper Shades Of House
Exclusive Live DJ Sets and selected talk free shows
Premium Podcast
Store Discounts
Download all new Deeper Shades Recordings releases FREE
EXECUTIVE PRODUCER credit
GO PREMIUM
Leave a Voicemail or Text
+1 313 444 3764

DSOH MEMBER LOGIN
Click register if you don't have an account yet. Basic membership is free.
LARS BEHRENROTH LIVE STREAM SCHEDULE
"MY COLLECTION" All Vinyl - MONDAYS


10am LA / 1pm NYC / 6pm London / 7pm Berlin & Johannesburg
#PromoTUESDAYS


10am LA / 1pm NYC / 6pm London / 7pm Berlin & Johannesburg



Lars Behrenroth LIVE In The Mix - WEDNESDAYS


11am LA, 2pm NYC, 7pm London, 8pm Berlin & Johannesburg