DSoH #273 - guestmix by JOJOFLORES
Wednesday, December 10th 2008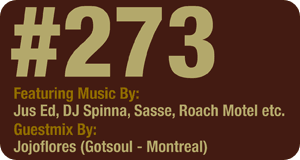 1st hour

mixed by
Lars Behrenroth

artist - title - label
Rozzo - Azzuro (Secretsundaze Vol 2 Sampler) - Secretsundaze
Jus Ed - Project 36 - UQ
DJ Spinna & Ovasoul7 - You Should Be Loving Me (Original Organic Vocal Mix) - Wonderwax
G. Family feat. Antonio Lyons - Night Shift (Dubin Dark Dub) - Real Tone
Toni Braxton - Spanish Guitar (JC Modulated Dub) - white
Sasse - Break Up (Timewriter Droit Up Mix) - Mood Music
Roach Motel - The Night (Marlon D & George Mena NY Vibe Rmx) New Version - Junior Boys Own
4 Ears & Lady Bird - Can't Be Without You (Benny Pecoraio Must Be Sax Dub) - Iwanai Rec.
Shana - Uyangichomela (Ralf Gum Deep Mix) - Gogo Music
Sinan Baymak - Brazoul - Deeper Shades Recordings 007
2nd hour
guestmix by
Jojoflores (Gotsoul Rec / Therapy - Montreal, Canada)
artist - title
Rejazz – Gabrielle
Jimmy Abney - More of You (Trinis Island Mashup Remix)
Kiko Nivarro – Sopanda Contigo
Doruk Ozlen - Lovers in Motion
Dennis Ferrer – Touch The Sky (Remix)
Sacha – Journey (Trini Yoruba Style Remix)
Afefe – Mirror Dance (Yoruba Soul Mix)
Power Douglas – RVRSR
Claude Monnet - Megouli Awassee
Incognito – Happy People (Christian Prommer)
Ezel - Mi Congo

Support Deeper Shades Of House
Exclusive Live DJ Sets and selected talk free shows
Premium Podcast
Store Discounts
Download all new Deeper Shades Recordings releases FREE
EXECUTIVE PRODUCER credit
GO PREMIUM
Leave a Voicemail or Text
+1 313 444 3764

DSOH MEMBER LOGIN
Click register if you don't have an account yet. Basic membership is free.
Yo, what's up? It's Lars.
Did you know that I run this whole Deeper Shades thing as a one-man machine and that all the shows are available for free?

- Free to download, free to stream, and free to play for radio stations all around the world. Even the releases on my label Deeper Shades Recordings can be downloaded for free. Nuts, right?


To keep Deeper Shades Of House and Deeper Shades Recordings running the way they do and to allow me to keep spreading good music while putting big smiles on people's faces, I rely on the support of a few of the many who have fallen in love with Deeper Shades.


If you consider yourself a fan, please check out the Deeper Shades Premium Silver & Gold member levels and find out how to show your support and receive premium benefits like exclusive DJ mixes, a premium podcast, higher audio quality downloads, discounts, browse the Deeper Shades site AD free, and much more.


Thank you for listening, and thank you for your support.
What's up Deeper Shades family,
I just upgraded the comment system on this website
to allow those without a Facebook account to also participate.

Comments are now active on most pages on this website.
Sadly, all previous comments are gone, but this only means that it's time to make new memories :)
Keep It Deep,
Lars Behrenroth