DSoH #270 - guestmix by JAMES PRIESTLEY
Tuesday, November 18th 2008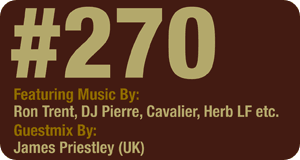 1st hour

mixed by
Lars Behrenroth

artist - title - label
Ron Trent & Chez Damier - The Morning Factory - Prescription
DJ Pierre - I've Lost Control (Glenn Underground Old School Re-Rub) - Gigolo
DJ Ringardos - Was Better In '88 - Versatile
Lidell Townsell - The Visitation - Nu Soul
Milton Jackson - Rhythm Track - Freerange Rec.
Poussez vs. Demarkus Lewis - Passin Thru (Atjazz Instrumental Edit) - Tone Control
Cavalier - The Beat - Drumpoet Community
Herb LF - Track O'Six - Troubled Kids
Fimo - Pollenflug - Progcity Deep Trax
Lovebirds - Gentle (Ian Pooley Rmx) - Teardrop
2nd hour
guestmix by
James Priestley (secretsundaze - UK)
check out
Giles Smith & James Priestley 'Secretsundaze Vol. 2'
artist - title - label

Mr Raoul K 'Emotion Du Peul (Our Side)' Baobab Music
Lowtec 'Untitled B1' Workshop 06
Alex Cortez 'Mardi Gras' Kahlwild
Sascha Dive 'Midnight Blues' Love Letters From Oslo
Uakti 'Rhythm Of The Saints' Laposer
2020 Soundsystem 'Falling (James Priestley & Dan Berkson Version 2) 2020 Soundsystem
Sascha Dive 'Black Panther (Samuel Davis Raw Dub) Deep Vibes
Brothers' Vibe 'Feelin' House (Berli-Rican Rmx - Main Mix) Mixx
Mara Trax 'Sambad' Cylicical Tracks
Leif 'Contentment' Mindtours
Scott Ferguson & Marvin Belton 'I Am Here (Piano Mix)' Deep Explorer

Support Deeper Shades Of House
Exclusive Live DJ Sets and selected talk free shows
Premium Podcast
Store Discounts
Download all new Deeper Shades Recordings releases FREE
EXECUTIVE PRODUCER credit
GO PREMIUM
Leave a Voicemail or Text
+1 313 444 3764

DSOH MEMBER LOGIN
Click register if you don't have an account yet. Basic membership is free.
LARS BEHRENROTH LIVE STREAM SCHEDULE
"MY COLLECTION" All Vinyl - MONDAYS


10am LA / 1pm NYC / 6pm London / 7pm Berlin & Johannesburg
#PromoTUESDAYS


10am LA / 1pm NYC / 6pm London / 7pm Berlin & Johannesburg



Lars Behrenroth LIVE In The Mix - WEDNESDAYS


11am LA, 2pm NYC, 7pm London, 8pm Berlin & Johannesburg