DSoH #264 - guestmix by PAWAS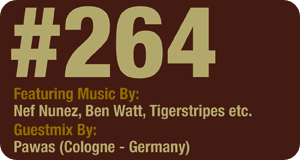 Tuesday, October 7th 2008
Download Part 1
Download Part 2
1st hour

mixed by
Lars Behrenroth

artist - title - label
Pawas - Mazo - Fear Of Flying
Arnaud D. feat. Donald Sheffey - Show Me Some Love (Ciappy dj & Cedric Mango Dub Margaritas RMX) - Soulshine
Arnaud D. feat. Donald Sheffey - Show Me Some Love (Ciappy dj & Cedric Mango Deep Margaritas RMX) - Soulshine
Nef Nunez - Cosmic Vibe - Deepa Grooves
Opolopo feat. Amalia - All Systems Down (Izmabad Rmx) - Deeper Soul Rec.
Ben Watt - Guineaq Pig (Vocal Variation) - Buzzin' Fly
Lukeshara - Glowind (Lars Behrenroth Remix) - Deeper Shades Recordings 005
Tigerstripes - Hooked (Solomun Rmx) - Liebe*Detail Spezial
Dimitri Andreas - Run & Hide (Afrilounge Deep Dub Mix) - Systematic
Julien Jabre - Stagger - Defected
2nd hour
guestmix by
Pawas
(
Fear Of Flying
- Germany)
artist - title (label)

Franklin De Costa - Corny ( Leena)
Moodymanc - Preacher (Redux)
Christian Burkhardt - Doubld Dub (Raum Musik)
Pawas & Beume - Neverdorf (Brut !)
Pawas - Mazo (fear of flying)
Kawabata - Persuasion (Serafin remix) (Drumpoets Community)
Agnes & Lee van Dowski - Louder Elvis (Leena)
Gregor Tresher - Break new Soil (Moon Harbour)
Pawas & Beume - MC Wasserhahn (Squonk)
Tim Green - Revox (Justin Martin remix) (Dirty Bird)
Daso - Numb (Conaisseur Black)
Ricardo Villalobos - Pan-pot spliff (Perlon)
Deeper Shades of House is a 100% listener supported program
We need your help to keep it going and pay for all related costs.
Please consider becoming a
Premium member
and gain access to exclusive mixes and shows!
Go Premium And Support Deeper Shades Of House