DSoH #261 - guestmix by STEFFEN BALDO
Tuesday, September 16th 2008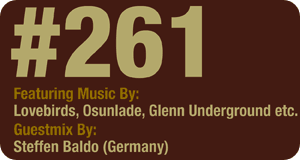 1st hour

mixed by
Lars Behrenroth

artist - title - label
Lukeshara - Glowind (Original Mix) - Deeper Shades Rec 005
Lovebirds - The Rat (Kreon Rmx) - Freerange
Martin East Project & E-Man feat. Charlie Charls - Some People (Emanapella) - Kapa Music
Spencer Parker - Chiho (Jerome Sydenham Rmx) - Buzzin' Fly
Brothers' Vibe - Feelin' House (Berli-Rican Mix) - Mixx Rec.
Osunlade - Momma's Groove (Jimpsters Hip Replacement Mix) - Strictly Rhythm
Love Over Money - Keep On (Restless SoulInstrumental) - Tonecontrol
Face feat. Jennifer Perryman - Free (Glenn Underground SJU Rework) - 3345 Music
Grobas - Back To Back (Papa Ino's Dub) - Loudeast Music
Ufoboys (Manuel Tur & Modern Walker) - People Move (Original Mix) - FM Musik
Tom Oe - New York Minute - Polyton
2nd hour
guestmix by
Steffen Baldo
(
Supafeed
,
Polyfon
, Deeper Shades Rec - Germany)
# - title - artist

01.soulphiction - soul print
02.morgan geist - straight swing
03.further details - cant go early
04.hanna faceless emotion
05.glenn underground - black mental ressurection
06.trusme - narda
07.moodyman - black mahogani
08.fudge fingas - escape
09.brett dancer - reachin
10.bassmental - here and now
11.nature boy - prayer
12.paul hunter – untitled
----------
Lars Behrenroth – Beach (Smith & Mudd Rmx) – Disque Sinthomme

Support Deeper Shades Of House
Exclusive Live DJ Sets and selected talk free shows
Premium Podcast
Store Discounts
Download all new Deeper Shades Recordings releases FREE
EXECUTIVE PRODUCER credit
GO PREMIUM
Leave a Voicemail or Text
+1 313 444 3764

DSOH MEMBER LOGIN
Click register if you don't have an account yet. Basic membership is free.