DSoH #260 - guestmix by KERVYN MARK
Tuesday, September 9th 2008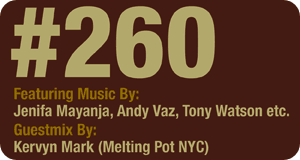 1st hour

mixed by
Lars Behrenroth

artist - title - label
Jenifa Mayanja - Travelling Miles - Bu-Mako
Inverse Cinematics - Bosaffair ( BAGPAK SELECTS - Vol I) - Bagpak Music
Lars Behrenroth - Beach (Original Mix) - Disques Sinthomme
Andy Vaz - Back To Square One - Y.O.R.E.
Breachboutique - Alegre - Polyton
Tony Watson - Passages - Ibadan Rec.
Sasse - New Sunday - Moodmusic
Matt Flores - Now Is The Time - Deeper Shades Recordings 006 - AVAILABLE NOW
2nd hour
guestmix by
Kervyn Mark
(
Melting Pot NYC
, New York City)
# - title - artist

1) Ben Ma Mi - Anane'
2) Hora - Osunlade vs. Jojo Flores
3) Time Alter Time (Yoruba Soul Mix)– Soul Central
4) Phylip' Track - Basic Channel
5) Life Ain't What It Seems - Sara Devine
6) Simmer (Trini's Island Beatdown) - Peven Everett
7) Kissing (Feliciano Vocal Mix)- Ralf Gum feat. Monique Bingham
8) Kodjo – Manoo
9) See Line Woman (Casamena Mix) – Nina Simone
10) Juzu a.k.a. Moochy

Support Deeper Shades Of House
Exclusive Live DJ Sets and selected talk free shows
Premium Podcast
Store Discounts
Download all new Deeper Shades Recordings releases FREE
EXECUTIVE PRODUCER credit
GO PREMIUM
Leave a Voicemail or Text
+1 313 444 3764

DSOH MEMBER LOGIN
Click register if you don't have an account yet. Basic membership is free.
What's up Deeper Shades family,
I just upgraded the comment system on this website
to allow those without a Facebook account to also participate.

Comments are now active on most pages on this website.
Sadly, all previous comments are gone, but this only means that it's time to make new memories :)
Keep It Deep,
Lars Behrenroth