DSoH #228 best of DSoH - DETROIT SPECIAL
Tuesday, January 29th 2007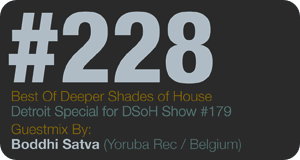 dsoh #179 revisited - DETROIT Special
mixed by
Lars Behrenroth


1st hour
artist - title - label
Omar S - Oasis-Fifteen (Collaborating album) - FXHE Records
Theo Parrish - Ebonics - Sound Signature
Marvin Belton - Bleed to be free - Ferris Park Rec
Moodyman - Amerika - KDJ
Carl Craig - Sandstorms - Planet E
Norm Talley - Exodus (Beatdown Brothers Rmx) - Third Ear
Rick Wade - Thought Process - Moods'n'Grooves
Jerry The Cat - Mating Ritual (Theo Parrish's Beat Freak Mix) - Soiree Rec. {mosliteadsense4joomla}

2nd hour

guestmix by
Boddhi Satva
(Yoruba Rec / Atal Music - Belgium)

originally aired on April 3rd 2007
artist - title - label
Osunlade - Sokinsikartep
Roy Ayers - Tarzan (Ame Remix)
Manoo - Kodjo
Louie Vega - Still Congo
Boddhi Satva - Dounia Mobimba (White)
Afefe Iku - Everything
Glenn Underground - Indian's Bagpipes
Boddhi Satva ft. Cid & Niota - Na Uti Musika
Ben Westbeech - So good today (Yoruba Soul Remix)
Roy Ayers - Holiday (Kenny Dope Remix)
Roy Davis Jr. ft. Peven Everett - Watch Them Come


Discuss this article in the forums (3 replies).
Jazzygal

replied the topic:
#3955
9 years 1 month ago
Man this set is too nice! So deep and so smooth! I love every track in the set. Would have been nice to feel the deep vibes live!
payola

replied the topic:
#11394
7 years 2 weeks ago
I cannot go day without my Fave show/mixes.The Jazzman, Jojo Flores, Rafael Meraes & The Mad Thinker's mixes takes me to another planet. P.S South African lets subscibe or donate to keep the show alive and sustain it.