Deeper Shades Of House #803 - guest mix by HARLEY & MUSCLE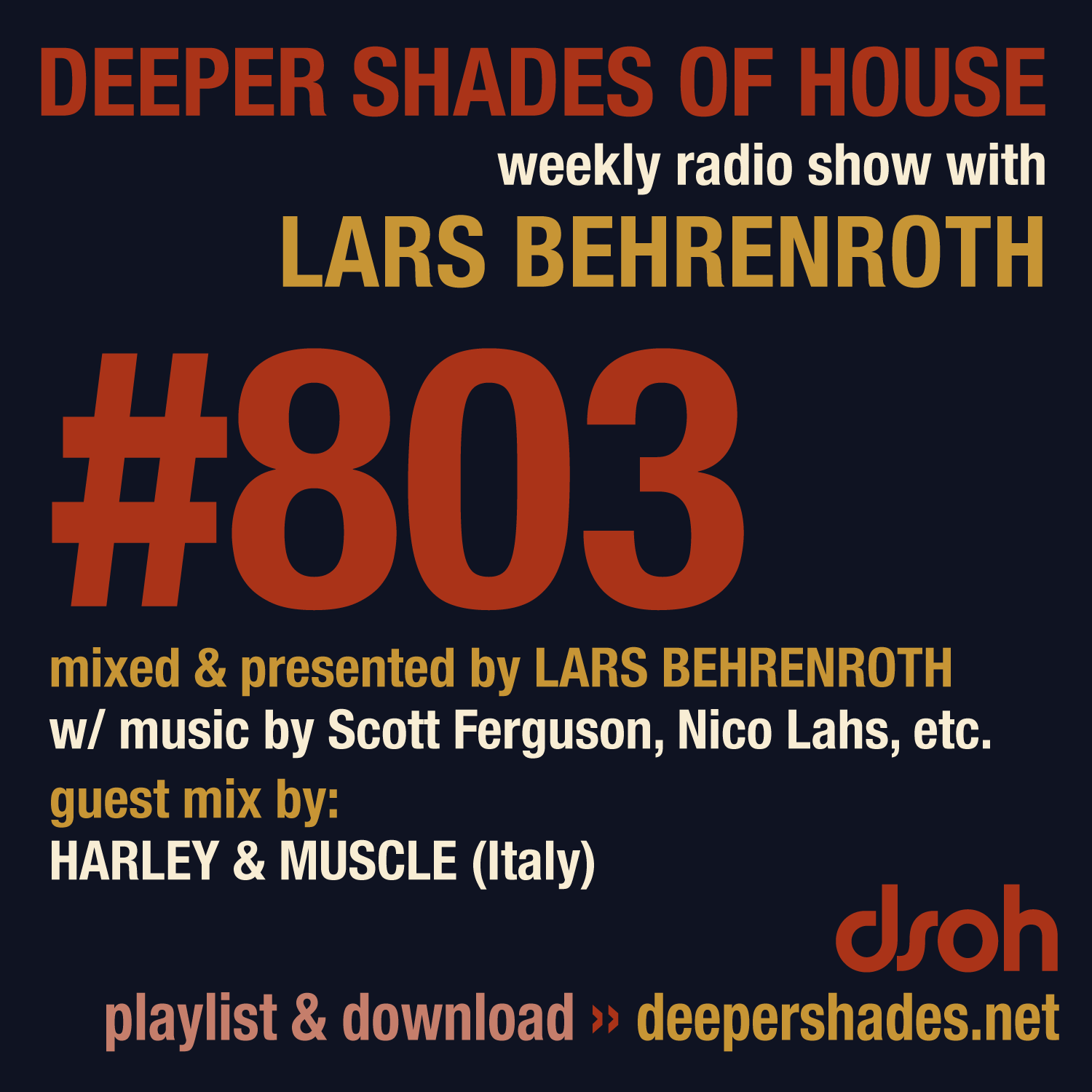 EXECUTIVE PRODUCER FOR
DEEPER SHADES OF HOUSE


EPISODE #803: CHRISTY CYR

audio

DOWNLOAD FIRST HOUR

(68.73 MB)

LOGIN / REGISTER TO DOWNLOAD SECOND HOUR Login Or Go Premium To Download FULL 2 hour show (320kbps mp3)

1st hour
mixed & presented by Lars Behrenroth

artist - title - label

Scott Ferguson - U Make (Organized Sound EP) - Chateau Chepere 03

Nico Lahs - It's A Spiritual Thing - Omena

Pablo Bolivar & Sensual Physics - Im Norden (Krissky Remix) - Seven Villas Music

Rich H - Taking Direction (Dailysession Gig Pack EP 1) - Dailysession Records

Trackheadz - 19Eightynine - DNH Records

Earl's BOOOM!!! - NO! (Earl's BOOOM​!​!​! Edits Vol2) - Melange

BNinjas - Intergate (V Love EP) - Deep Clicks

French Affair - You Must Be Important (Jaymz Nylon Afrotech ReShape) - Nylon Rec

Kevin Reynolds - Para Ti ft Paul Randolph (A CERTAIN CIRCUMSTANCE Album) - Yoruba Records

Matt Masters - Worlds Collide - Freerange Rec.

Tension - Maestros - Deep Inspiration Show Records

PREMIUM MEMBER BONUS (talkfree download only)
Login Or Go Premium to Download FULL MIX

Fit Siegel - Tonite (Original Mix) - FIT SOUND

Reel People feat. Speech - I Never Knew (Fouk Instrumental Remix) - Reel People Music

Soul Renegades - Dragons Den (Respect House Cultures Vol. 2) - Deep Inspiration Show Records

Kez YM - Floating Eyes (Rick Wade Remix) - The Playground

Earl's BOOOM!!! - Black Sunshine (Earl's BOOOM​!​!​! Edits Vol2) - Melange

Kyle Hall - In Ya Mind (Bonus track) (Good Hado EP) - Forget The Clock

Billie Holiday - My Man (Dj Aakmael House Mixx) - bootleg

Rigmaiden VS. Radiohead - In Its Place (Stephen Rigmaiden Remix) - bootleg

Zeb Samuels & Kiko Continentino - About That Time

2nd hour
Exclusive guest mix by HARLEY & MUSCLE (Soulstar Records, Italy)

# - artist - title

1. KOT feat. Michelle Weeks "Ten Minute High" (Vibe 'A' Pella)

2. Mike Dunn "Now That you Gone"

3. Jonny Fiasco "Falling" Cyclo Records

4. Kerry Chandler "Stay"

5. Dj Deep & Julian Jabre "Sun is Back"

6. Cassio Ware "Baby Love"

7. Coral Way Chiefs "Release Yourself" Dub mix

8. D*Note "Lost & Found" Danny Tenaglia remix

9. Cassa da X "Elastic Reality"

10. Voodoo "Phunk New Love" Choco Equinox Remix

11. Romanthony "Let Me Show You Love" Quick Dub

12. Mr. FIngers "Bye Bye"
Tags: Classic House