Deeper Shades Of House #760 - guest mix by K CIV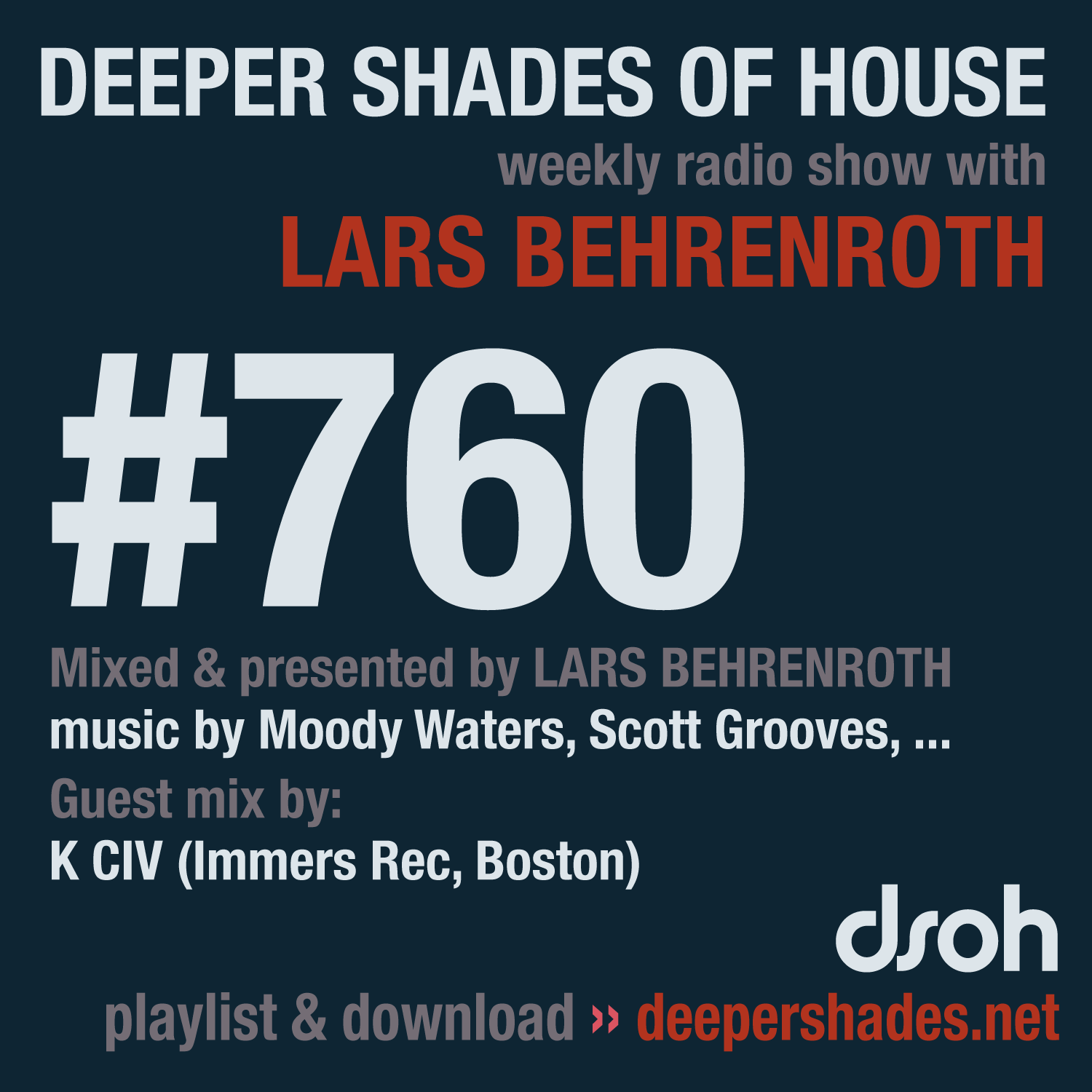 EXECUTIVE PRODUCER FOR
DEEPER SHADES OF HOUSE


EPISODE #760: GARRET JANNEYDOWNLOAD FIRST HOUR LOGIN / REGISTER TO DOWNLOAD SECOND HOUR Login Or Go Premium To Download FULL 2 hour show (320kbps mp3)

1st hour
mixed & presented by Lars Behrenroth


artist - title - label


Paso - I Never (Coeur De Palmier) - DKO

Moody Waters - Ocurrence 4 - Release Sustain

Scott Grooves - Red Crates (Unreleased anthology ep (For those without tables)) - sgrooves.bandcamp.com

Glenn Davis - One Day - Y.O.R.E

Felipe Gordon - Strings of the Afterlife (Original Mix) - Razor'N'Tape Reserve

Jeff Swiff - That Ride Home - Nicewon Recordings

Fred Everything & Trevor Walker - E.S.M. (Earth, Sun, Moon) (Dub) - Compost Rec

Peter Koren - Highflyer (Original Mix) - Piston Rec

Soul of Hex - Music of the Night - Vicario Musique

JKriv & Peter Matson - Bigtime - Heist Recordings

ONLY ON LIVE RECORDING:

Andreas Horvat - Ochala (NYC Deep remix) - Ocha Records

Funkky feat. Mavhungu - Mitodzi (Jimpster Remix) - Foliage Rec

UC Beatz - Stars Keep Shining (Nightzoom EP) - B2 Recordings

Manuold - Sound Light - Sengiley Wax

Brian Owens & the Royal Five Cool, Cool Water (Original 12" version) - Visions Recordings

Bruce Lee - Be Water My Friend

2nd hour
Exclusive guest mix by K CIV (Immers Records, Boston) - Twitch


# - artist - title


1. Intro

2. Mop Mop feat. Anthony Joseph "The Serpent" (Daisho Remix)

3. DJ Kemit & Luke Austin present The Lounge Lizards "Detroit Hustle"

4. Omar "The Shit Baby"

5. Sio feat. Dunn "Reverse Flight" (Original Mix)

6. De.xx feat. Osunlade "Evo"

7. Solomun feat. Jamie Foxx "Ocean" (Moodymann Extended Remix Feat. Amp Fiddler)

8. Mark Francis presents Stim Dzyl "Kilomanjaro" (Eye Candy Mix)

9. Charlotte Dos Santos "Helio" (Dave D*Sol Rivera Dub Mix & Main Mix)

10. Unknown - Naeem (Conway Instrumental)

11. Deep Just "Cinnamon and Honey"

12. Made Kuti "Free Your Mind"