Deeper Shades Of House #625 - guest mix by LADY MORE
Thank you for rating this article.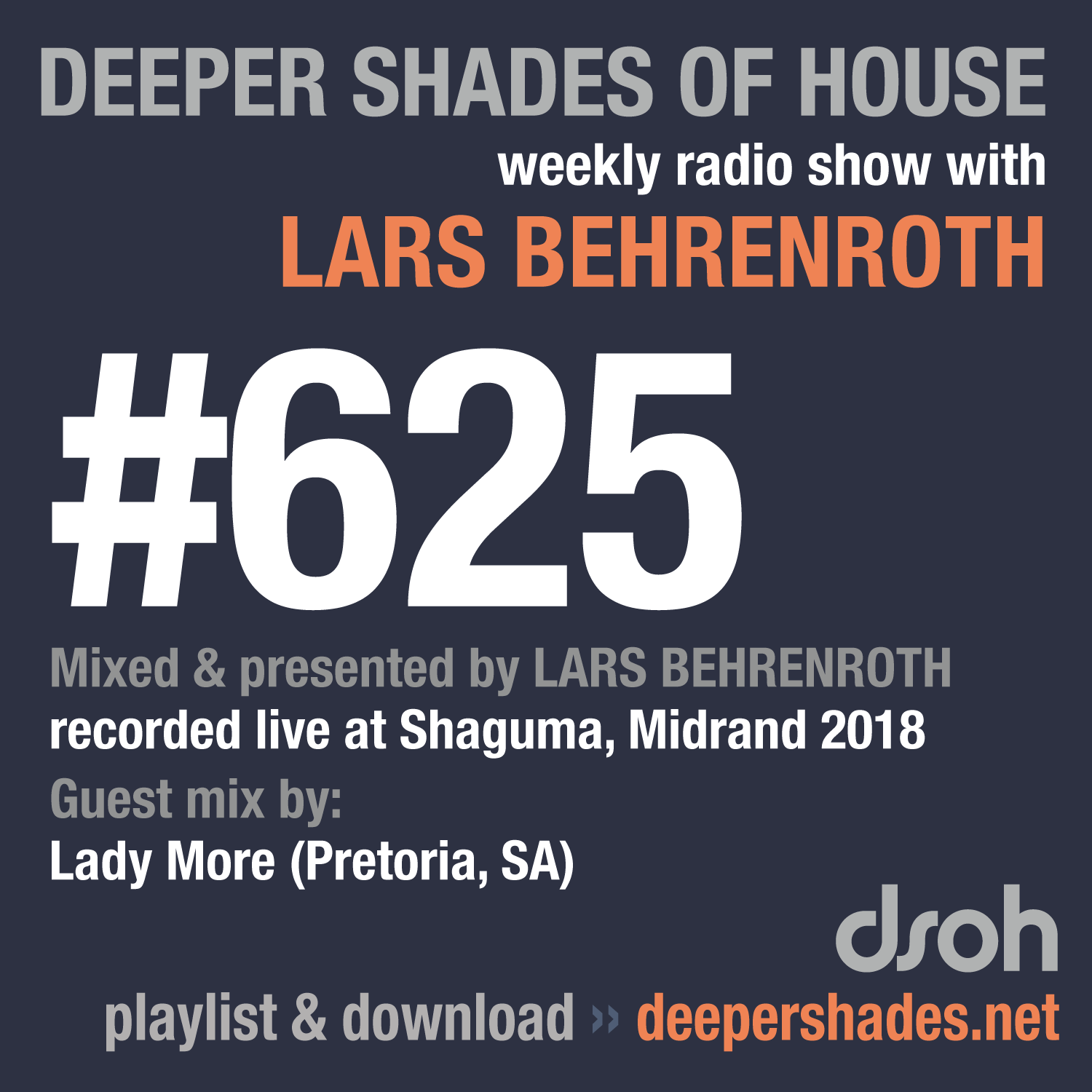 EXECUTIVE PRODUCER FOR DEEPER SHADES OF HOUSE EPISODE #625:
ERICK SEELBACH


DOWNLOAD FIRST HOUR
DOWNLOAD SECOND HOUR
Login Or Go Premium To Download FULL 2 hour show (320kbps mp3)
I'm still traveling in Europe with the family and I'm recording the shows bi-weekly. This show was recorded in our Airbnb in COPENHAGEN, DENMARK. Enjoy!
1st hour
mixed & presented by Lars Behrenroth
recorded live at Shaguma Garden Cafe in Midrand - South Africa on July 6th 2018
sorry, no tracklist


2nd hour
Exclusive guest mix by LADY MORE (Pretoria, South Africa)

# - artist - title - label
1. Synkro - Your Heart ( Sven's To Be Pure In Heart Mix) - Apollo (Belgium)
2. Michael FK - Petrichor( G. Strizzolo) - Michael FK
3. Pablo Bolivar - My Sense ( Reprise) - Seven Villas
4. Newman - When The Leaves Fall (Original Mix) - All Day I Dream
5. Know How - Turn (Addex Remix) - 2600 Records
6. Avidel - Smoking Time (Original Mix)
7. The Mole - Set You Free (Amorf Interpretation) - Meander 23
8. Pablo Bolivar - Destination Nara (Original Mix) - Avant Roots
9. Stimming - The Song (Original Mix) - Diyanamic