Deeper Shades Of House #623 - guest mix by NORM DE PLUME
Thank you for rating this article.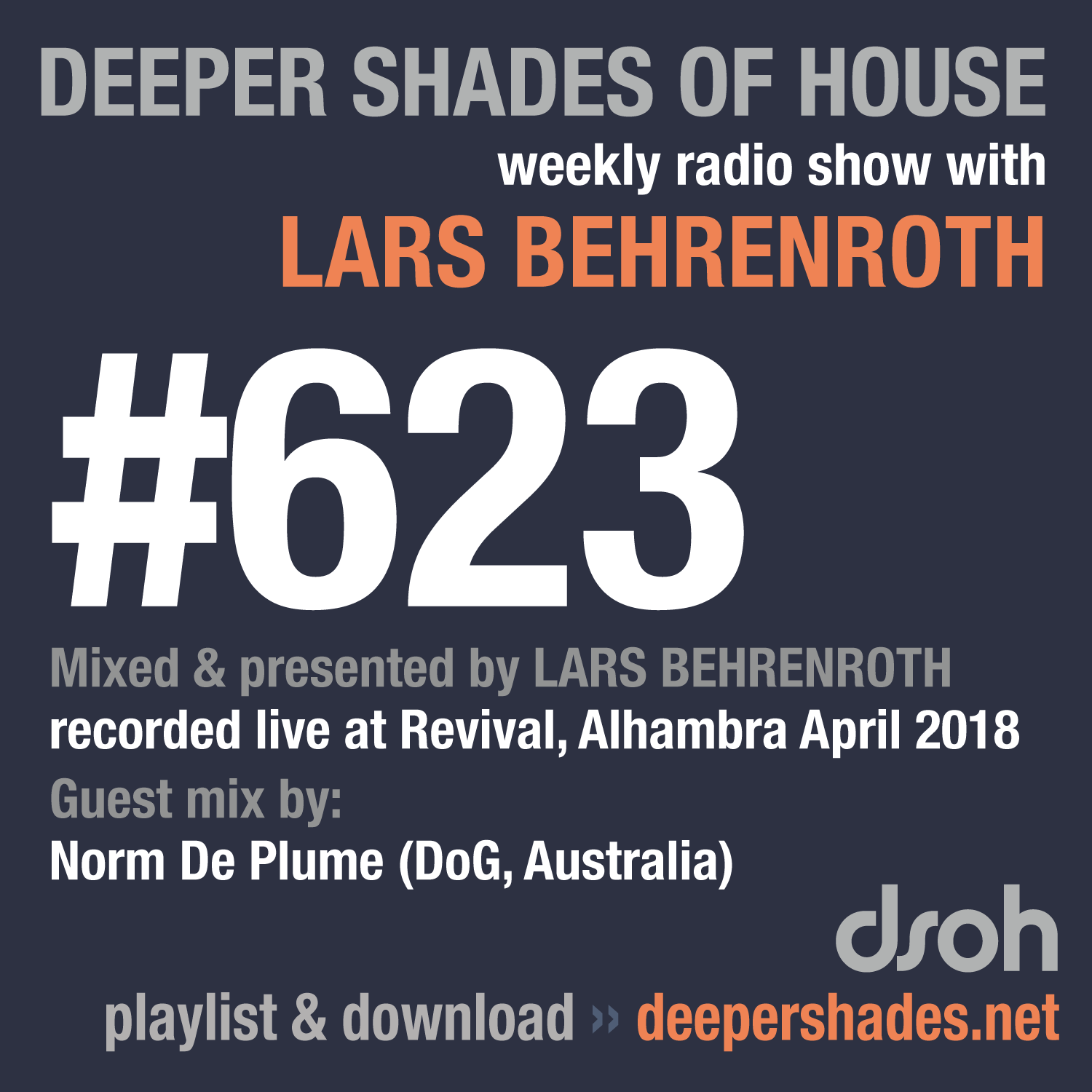 EXECUTIVE PRODUCER FOR DEEPER SHADES OF HOUSE EPISODE #623:
EMMET BAYLOR


DOWNLOAD FIRST HOUR
DOWNLOAD SECOND HOUR
Login Or Go Premium To Download FULL 2 hour show (320kbps mp3)
Since I'm on vacation in Europe with the family, I'm recording the shows bi-weekly. Here's the first one recorded while on the road in Barcelona, Spain. Enjoy!
1st hour
mixed & presented by Lars Behrenroth
recorded live at Revival in Alhambra for Lars' birthday in April 2018
sorry, no tracklist


2nd hour
Exclusive guest mix by NORM DE PLUME (Delusions Of Grandeur, Australia)

artist - title (label)
Intro: Tangerine Dream: 3am At The Border Of The Marsh From Okefenokee (Virgin)
Broke One: Gazelle Flip (BigBait)
Vicmari: Wonders (Eclipser Chaser)
Doubting Thomas: Diapason (Organic Music)
Norm De Plume: Castlecrag (Delusions Of Grandeur)
Flight Mode: It's So Nice (Delusions Of Grandeur)
Moodymann: Dem Young Sconies (Planet E)
Adesse Versions: Raw (Live Edit) (Delusions Of Grandeur)
I:Cube: Ramurc (Versatile)
DJ Aakmael: Daydreeming (Freerange)
DJ Koze: Pick Up (Pampa)
Norm De Plume: Another Flow (Plumage)
Outro: Boards Of Canada: Telepath (Warp)