Deeper Shades Of House #577 - guest mix by RICARDO MIRANDA
Thank you for rating this article.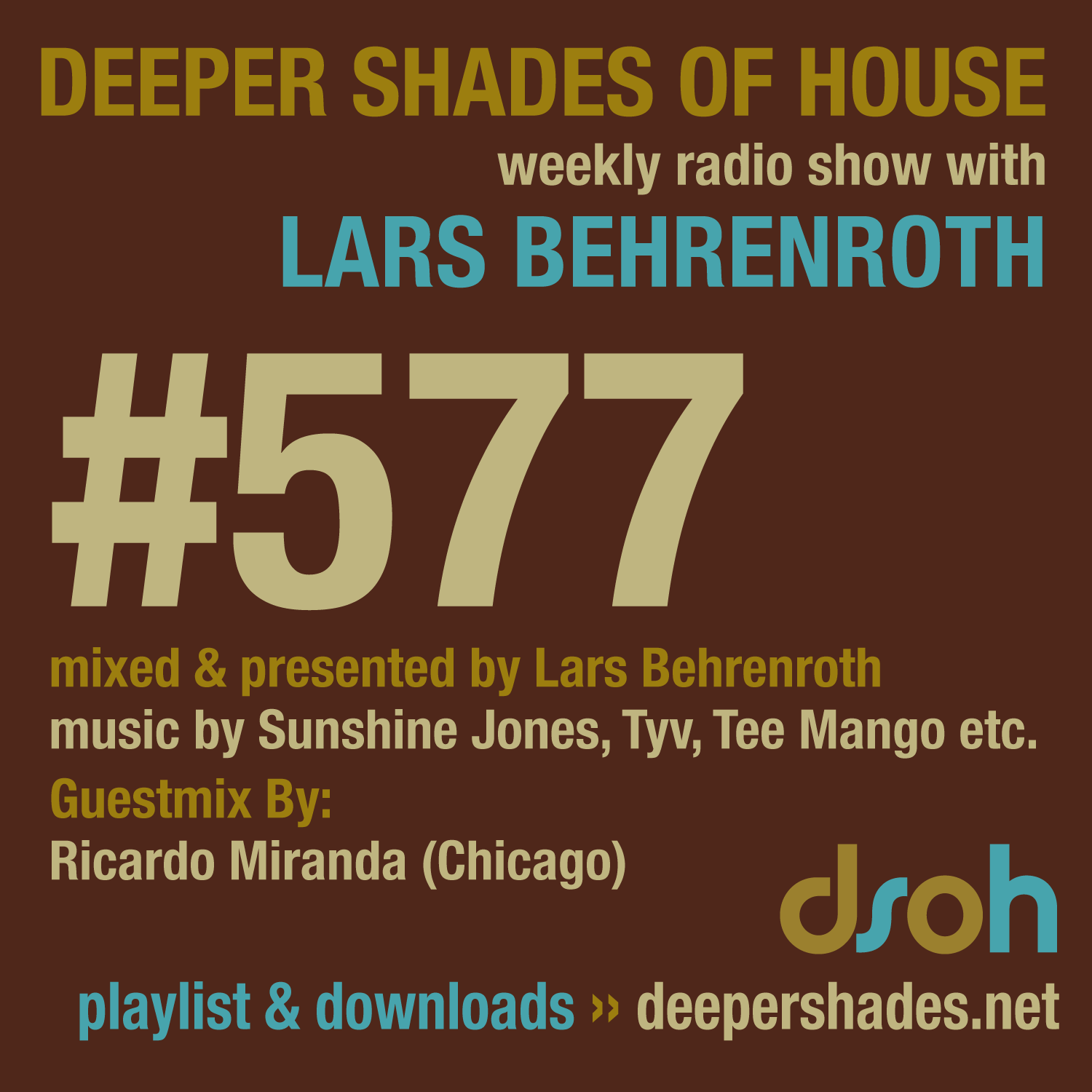 EXECUTIVE PRODUCER FOR DEEPER SHADES OF HOUSE EPISODE #577:
VULANI MABUNDA - find out how to become Executive Producer


DOWNLOAD FIRST HOUR
LOGIN / REGISTER TO DOWNLOAD SECOND HOUR
Login Or Go Premium To Download FULL 2 hour show (320kbps mp3)
1st hour
mixed & presented by Lars Behrenroth
artist - title - label
Manuel Costela - Metallurgical Love (Original Mix) - DeepWit Recordings
Death On The Balcony - Lost & Found feat. Rat on the Roof (Original Mix) - Anjunadeep
Sunshine Jones - Fall In Love Not In Line - The Urgency Of Change
TYV - Miau! (Lauer Remix) - Gop Tun
Dimitri From Paris & DJ Rocca - Zanzibar - GOMMA
Tee Mango - Time Is Now - Millionhands Black
Till Von Sein - Ambush 77 - Tilly Jam 001
OUER - Shasta Cascade - Neovinyl Recordings
Session Victim - Shadows - Delusions Of Grandeur
Heat Alliance - Come Into My Heart (Jean-Jérôme Remix) - Instinctive Records
Luces - Midnight Mess - Habitual Ritual


2nd hour
Exclusive guest mix by RICARDO MIRANDA (Strictly Jaz Unit - Chicago)
artist - title - label
1. African Suite - Vibes
2. No title
3. Lil Louis - Fable Glenn Underground Mix
4. Yellow magic Orchestra - Computer Games
5. Latin Soul Brothas - Jingito
6. Justin Long - The Mighty Mutant Disco League - Akira goes Bang
7. Stevie Wonder - All I Do (Remix)
8. Solid Gold Playaz - Pimp Loop (Can You Dance)
9. Southside Connection - That String Track
10. Brothers Of Soul - DiscoEra

RICARDO MIRANDA is playing at RHYTHM NATION (Blonde Bar) in San Diego on JULY 14th 2017
Please click the flyer below for more information on the event.