Deeper Shades Of House #574 - guest mix by ANDY COMPTON
Thank you for rating this article.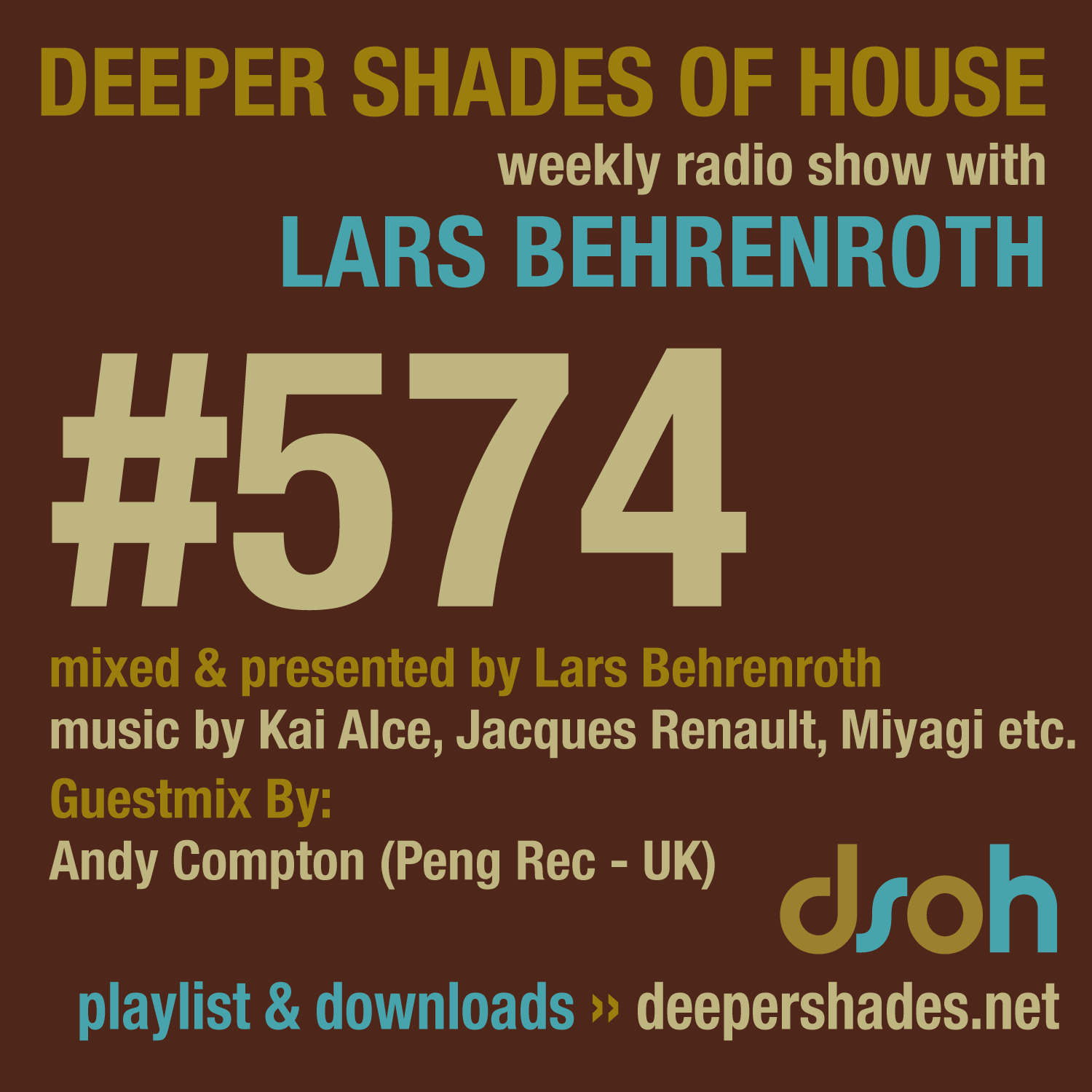 EXECUTIVE PRODUCER FOR DEEPER SHADES OF HOUSE EPISODE #574:
GARRETT SALYER - find out how to become Executive Producer


DOWNLOAD FIRST HOUR
LOGIN / REGISTER TO DOWNLOAD SECOND HOUR
Login Or Go Premium To Download FULL 2 hour show (320kbps mp3)
1st hour
mixed & presented by Lars Behrenroth
artist - title - label
Kevin Kendall - Should Be Sleeping (Grounded 2 U EP) - Bamboo Playground
Markus Quittner & Seismic - Gonna Be - Cahoots Records
sanXero feat. Katarina G - Walk By Me (Scott Diaz Remix) - Reel People Music
Q Narongwate - 1982 (Original Mix) - Sub_Urban
Jimpster - The Sun Comes Up ft. Jinadu (Peggy Gou 6am Mix) - Freerange Records
Kai Alce - Scene 2 - Finale Sessions Select
Jacques Renault - Words (Tom Noble Remix) - Let's Play House
Kiko Navarro - Twilight (Everything Happens For A Reason) - BBE
Miyagi - Mescal Lane (Stevie, Delfin & Alex Zed Remix) - Motek Music
Sade - I Never Thought I'd See The Day (Michael Ashe Remix) - white
Jazzuelle feat. Da Capo - Blood Moon (Circles Album) - Get Physical Music

only on live video (see below):
Loftsoul x Miruga feat. Aisata Kouyate - Tanma (Dub Tribe Mix) - R2 Records


2nd hour
Exclusive guest mix by ANDY COMPTON (The Rurals - Peng Rec - UK)
One hour of Andy's live set from Deeper Shades Live Sessions #2 - Feb 7th 2017 (watch the entire two hour set below)

artist - title
Sorry, no tracklist. Please post your track ID request as comment below.