Deeper Shades Of House #506 - guest mix by DEEP MARVIN
Thank you for rating this article.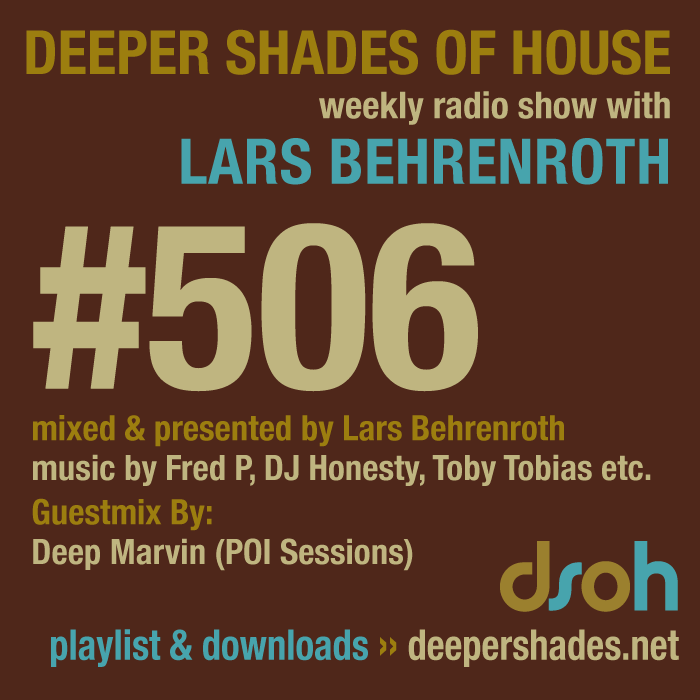 Download Part 1
Download Part 2
EXECUTIVE PRODUCER FOR DEEPER SHADES OF HOUSE EPISODE #506:
Carl Mansfield - find out how to become Executive Producer


1st hour
mixed & presented by Lars Behrenroth

artist - title - label
Ashley Beedle/ Lay-Far / Darren Morris - Slope - Local Talk
Fred P - Dub In The Sky (Modern Architect - Compiled Works of Fred P) - Energy Of Sound
Kisk - Friends (Jazzy Best Part 6) - Apparel Music
Maribou State - Midas feat. Holly Walker (Martin Iveson Dub) - Counter Records
Mall Grab - Guap - Collect Call
Roy Gilles - Eat Your Groove (Huxley Remix) (Jazzy Best Part 6) - Apparel Music
Kumquat - The Honeymoon (M.ono Remix) - A Friend In Need
Fred Everything feat. Jinadu - Searching (Deetron Remix) - Lazy Days Recordings
DJ Honesty - Mol - Out Of The Ordinary
Toby Tobias - Love Affair (I:Cube Remix) - Delusions Of Grandeur

Ustream Only:
Gianluca Pighi & Tiziano Ribiscini - Babalawo (Dub) - FOMP

2nd hour
Exclusive guest mix by DEEP MARVIN (POI Sessions, South Africa)

artist - title - label
01. Intr0beatz - Sweet Sensation [Dark Energy Recordings]
02. Henry Wu - Sumner Road (Original Mix) [Odd Socks]
03. Mike Huckaby - The deep house world [Third Ear Recordings]
04. Playin 4 The City - Backside (Extended Original) [Plastik People Recordings]
05. Marc Cotterell, Benedict - AAPTOBG (Marc Cotterell Remix) [Surface Recordings]
06. Alen Simple - Old School (Ollie Viero Remix) [Toolroom]
07. Santiago Santamaria - Signals (Dub Mix) [Elite Records]
08. Adham Zahran, Hisham Zahran - Dream Weaver (Original Mix) [Moodmusic]
09. Sebo K - Ojo Rojo [Robsoul]
10. Rick Wade - Breaking Deep [Clubstar]
Deeper Shades of House is a 100% listener supported deep house radio show.
We need your help to keep it going and pay for all related costs.
Please consider becoming a Premium member and gain access to exclusive mixes and shows!
Go Premium And Support Deeper Shades Of House