Deeper Shades Of House #503 - guest mix by JAZZMAN
Thank you for rating this article.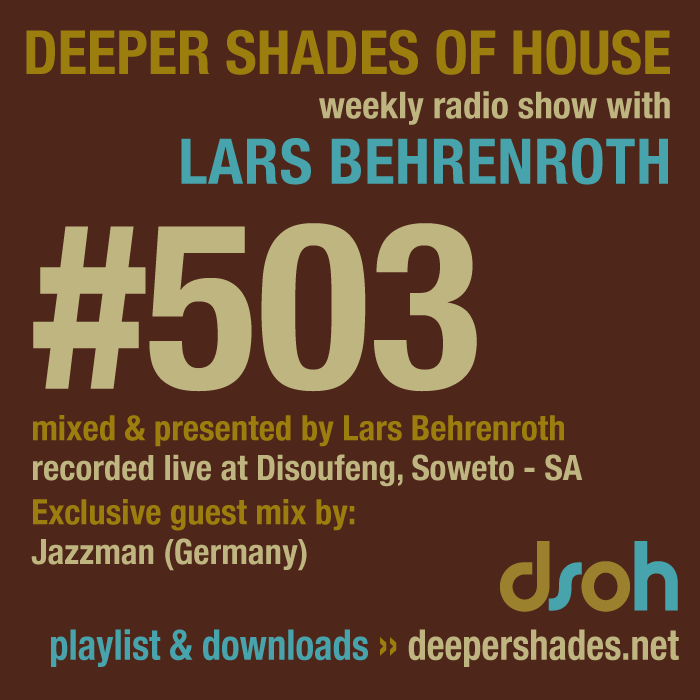 Download Part 1
Download Part 2
1st hour
mixed & presented by Lars Behrenroth
recorded live at Disoufeng in Soweto, South Africa

artist - title - label
sorry, no tracklist.
Please leave comments below for track ID requests

2nd hour
Exclusive guest mix by JAZZMAN (Deep Inspiration Show, Germany)

artist - title - label
1. Allstar Motomusic - Love Forever (feat. Dylan Ogle) [Deep Explorer]
2. Urtzi - No Black Memory [Downbeat]
3. Dj Jazzy Jeff & The Fresh Prince - Summertime (Kisk Re-Edit) [Unreleased]
4. ReeKee - Save Dat [Simple Things]
5. Folamour - Lost Between Friendly Fires [Fauxpas]
6. Hnny - Fresh Laundry [Pets]
7. Lay-Far - Pensamento Novo (Original Mix) [City Fly]
8. Nathaniel X Project - Supplement Finale [Undertones]
9. Owen Jay & Melchior Sultana ft. Riene Kabban - Rising High [Troubled Kids]
10. Sean Bird - Untitled [Bumako]
11. Junktion - World Spin [Diggin Disco Deep]
12. Move D - Eastman [Wake Up!]
Deeper Shades of House is a 100% listener supported deep house radio show.
We need your help to keep it going and pay for all related costs.
Please consider becoming a Premium member and gain access to exclusive mixes and shows!
Go Premium And Support Deeper Shades Of House