Traxsource Asks Lars 5 Questions About Miami



Every year online mp3 retailer Traxsource interviews several DJs and producers about their upcoming WMC trip. The same 5 questions are asked to people like Louie Vega, Grant Nelson, Julius Papp, Ralf Gum, Boddhi Satva, DJ Spinna, myself and many more.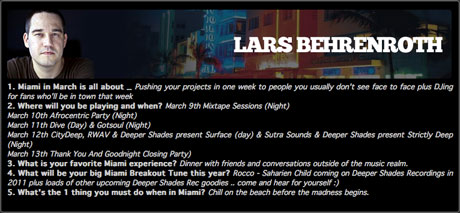 Since that screenshot may be a little too small to read, here are the 5 questions I've been asked:
1. Miami in March is all about .. Pushing your projects in one week to people you usually don't see face to face plus DJing for fans who'll be in town that week.

2. Where will you be playing and when? March 9th Mixtape Sessions (Night) ; March 10th Afrodesia Afrocentric Party (Night); March 11th Dive (Day) & Gotsoul (Night) ; March 12th CityDeep, RWAV & Deeper Shades present Surface (day) & Sutra Sounds & Deeper Shades present Strictly Deep (Night) - All set times, venues and info at http://www.deepershades.net

3. What is your favorite Miami experience? - Dinner with friends and conversations outside of the music realm.

4. What will be your big Miami Breakout Tune this year? Rocco - Saharien Child coming on Deeper Shades Recordings in 2011 plus loads of other upcoming Deeper Shades Rec goodies .. come and hear for yourself :)

5. What's the 1 thing you must do when in Miami? Chill on the beach before the madness begins.

You can check all WMC Traxsource producer / interviews right here.