Follow Deeper Shades Recordings On The All New Traxsource.com
My friends at Traxsource just rebuilt their entire website from the ground up in HTML 5 and I'm really enjoying it. Nice updates, sleek design and intuitive navigation.

You can now "FOLLOW" labels and artists through the new profile pages and be immediately updated when said artists or labels make new music available. This way you have all your favorites in one view.
To "FOLLOW" Deeper Shades Recordings, simply visit the Deeper Shades Recordings label page on Traxsource.com, login and click the "FOLLOW" button as shown below.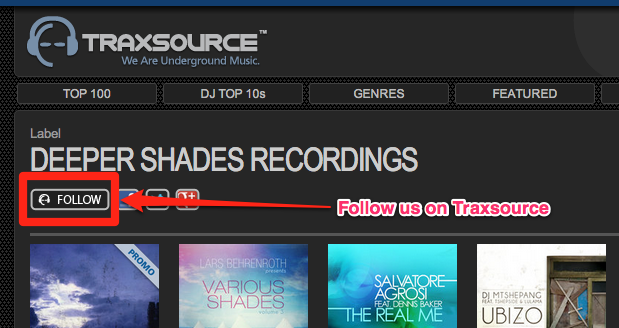 There are many other new features for you to explore, for instance you can now create your own DJ Top 10.
Get started by heading over to the Traxsource blog and dive into this post to learn more.