[DJ MIX] A Tribute To DSOH - Mixed By Moodyzwen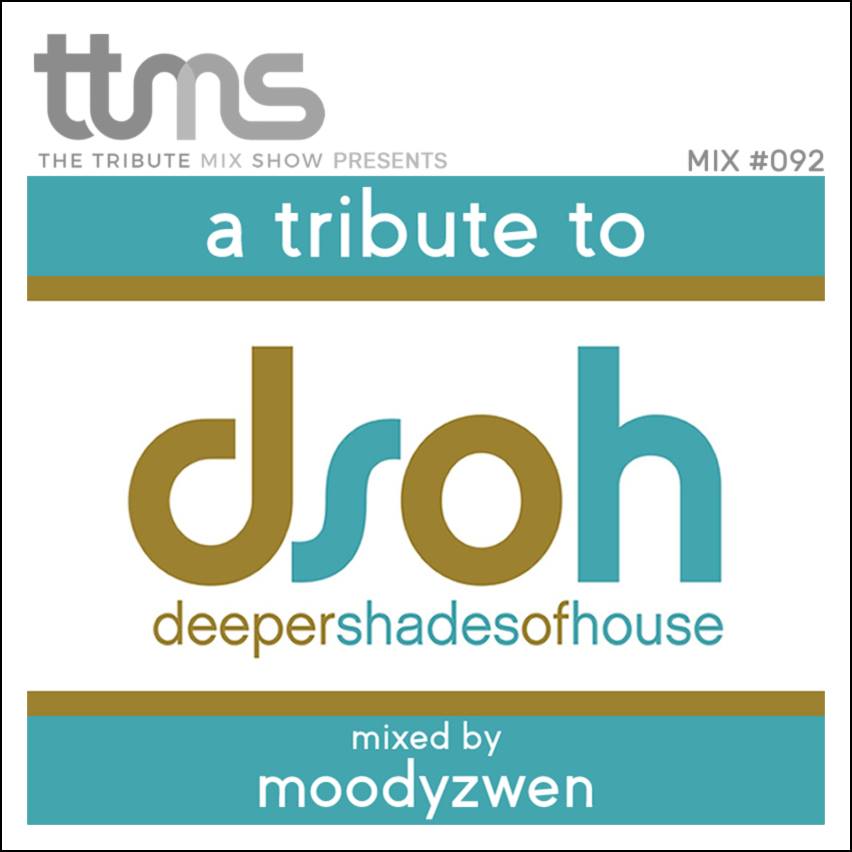 The 92nd mix in "The Tribute Mix Show" series is dedicated to DSOH
For several years now, Moodyzwen from Germany has been recording and curating DJ mixes which each concentrate on only one record label or artist within the genres of Deep House to Techno. In the TTMS archives on Soundcloud you can find mixes honoring the releases of labels like Dessous Recordings, Peppermint Jam, FXHE, NRK, Deep Explorer, Basic Channel and the productions and remixes of artists such as Glenn Underground, Steve Bug, Kyle Hall, Ron Trent, Murk, DJ Rasoul, Baby Ford, Bernard Badie, and many more.
This is what Moodyzwen had to say on release of the mix:
The next mix is online. This time with a very very special special double double feature feature.
Can´t remember when I heard the "Deeper Shades Of House" show for the first time - maybe around 2005.
I had not listened to every mix, but what I´ve heard is full of nice music. So I think it is worth a tribute mix.
But how to make a tribute to a radio show?
Well, besides the show there´s a label called Deeper Shades Recordings, also run by Lars Behrenroth. Therefore the tribute to the show features tracks from the label - double double madness!
You can download and stream the mix below, and check out the full track list as well. ALL releases featured in the mix are available in the Deeper Shades Bandcamp store, and many are available as free downloads in the Premium Download Section.
Download "A Tribute To DSOH" - Mixed By Moodyzwen
# - artist - title
01. Ted Jood - Follow Your Soul
02. Ancient Deep - Early Werk (feat. Carlos Mena)
03. Em.Deep - Eyes Y´de Open
04. Apple Jazz - Time Shift (Original Mix)
05. DJ Embassy - Inside The Space
06. Jesus Pablo & Adam Brass ft. Raha - When I Touch Your Lips (Nuno SEA Dub Remix)
07. Johannes Albert - Responsible For Nothing
08. Blaq Soul - Vision
09. Lars Behrenroth - The Way You Move feat. Chezere
10. DJ Funky T - She Got It Bad
11. G.Family - Break The Silence (Main Mix)
12. Gabriel Magdelani - Face Down
13. Teddy Esposito - It´s Juust Your Love (Made In NY Mix)
14. Kaygee Pitsong - Differences
15. King Bayaa - Ekat Em Yawa (King Bayaa Dance Remix)
16. Kagiso "Kaygee" Pitsong - Cuferu
17. Lars Behrenroth - Madness Last Night
18. Liquideep - Feel It (Shur-I-Kan Dub Mix)
19. Lemon N Herb - Ukatali
20. Kenny Zarro - Tool 122
21. Lukeshara - Glowind (Lars Behrenroth Remix)
22. Matt Flores - Now Is The Time
23. Michael Ashe - I Don´t Know (Charles Webster Dub)
24. Michael Lovatt - Get High
25. Nteeze & Andy - The Melody
26. PeteBlas - Message To The People