Deeper Shades Of House Podcast Reaches Over 100,000 Downloads
{xtypo_dropcap}M{/xtypo_dropcap}any of you frequent visitors of
deepershades.net
and avid listeners of my radio show Deeper Shades of House helped me reach yet another magic mark. A few days ago, on October 3rd 2007 to be exact,
the Deeper Shades of House Podcast reached over 100,000 downloads
since I started making it available on November 14th 2006. This number is according to my statistics at
feedburner.com
(a service that allows keeping track of your podcasts and other RSS feeds) ONLY INCLUDES ACTUAL PODCAST DOWNLOADS. Not counted are the many many downloads directly from the site deepershades.net.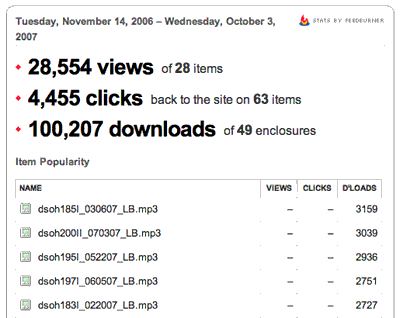 This screenshot above shows the number of downloads as well as the top 5 shows downloaded.
Deeper Shades of House show #185
leads the chart of Item Popularity with 3159 downloads. I know someone blogged about it somewhere :) . . . Followed closely by the
2nd hour of Classic House Special DSoH #200
and so forth. The additional views and clicks in this screenshot show how many people clicked back to the site from the podcast (via Itunes or other podcatchers). Since I redesigned my site those numbers have gone up dramatically and I am sure the possibility to download the guestmixes / 2nd hour of each show is helping as well.
So, if you haven't subscribed to the podcast yet, why don't you
consider taking advantage of having the newest shows downloaded automatically to your computer
once I uploaded them to the server.
THANK YOU ALL VERY MUCH for enjoying what I do and for spreading the word.
I know that a lot of people find their way to this site because music lovers like you told them about Deeper Shades of House.