EZEL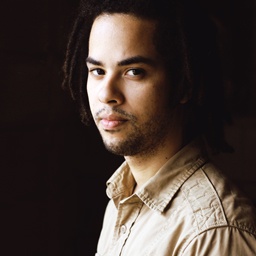 When Ezel was born his parents named him after the Spanish words "Es El" that means that he is he, a unique being with a purpose of his own and that purpose is his art.
Born in Santo Domingo, Dominican Republic, Ezel has always been interested in matters of the Soul, to the point that his musical journey started 10 years ago as a piano 
player in his local church.
In 2008 destiny allowed him to meet Osunlade, the amazing yoruba priest & music producer, a presence that has been highly influential in Ezel's life and music. 2 years later Ezel has growth to become one of the most admired new artists in the underground house scene.
His last single "In My Lifetime" featuring songstress Tamara Wellons became a #1 hit in house circuits worldwide receiving the support of highly influential DJs such as Gilles Peterson & Joaquin "Joe" Claussell.
Appears On:
DSOH013
Deeper Shades of House Guestmix:
Show #310
This year also saw the release of Ezel's debut album "Secreto" on Ocha records. Critically acclaimed, the album encompasses a vast array of soulful musical styles that go from deep house to broken beat to jazz and r&b all united under a deep spiritual vibe of global soulfulness and that's now being taken to the next level with remixes of world class producers such as Deetron, Osunlade & Atjazz.
Having done remix work for some of the most important dance labels worldwide such as Tea Party, Yoruba, Compost, King Street & Reel People Music. His wisdom and instinct gained him a enviable reputation as a top notch remixer and his sound its being requested by the likes of Reel People, Tortured Soul, Eddy Meets Yannah, Daz-I-Kue, Dawn Tallman, Kay Suzuki, Oveous Maximus, AtJazz, John Arnold & Jeremy Ellis just to name a few.
Ezel has performed in some of the main circuits of the United States. In 2009, relocating himself for a short period of time in the city of New York allowed him to be accessible for people that just where starting to discover about him. During that time he performed at parties in Miami, Boston, Chicago, Houston and of course New York leaving a strong image in people's mind that the energy in his performance is something mystical that really needs to be experienced.
It is a bright moment in the life of Ezel, a young & gifted musician, producer and DJ that thru his art is manifesting his love for life creating positive vibration that is destined to expand all over the world.