Records: Underground Resistance, GB, Versalife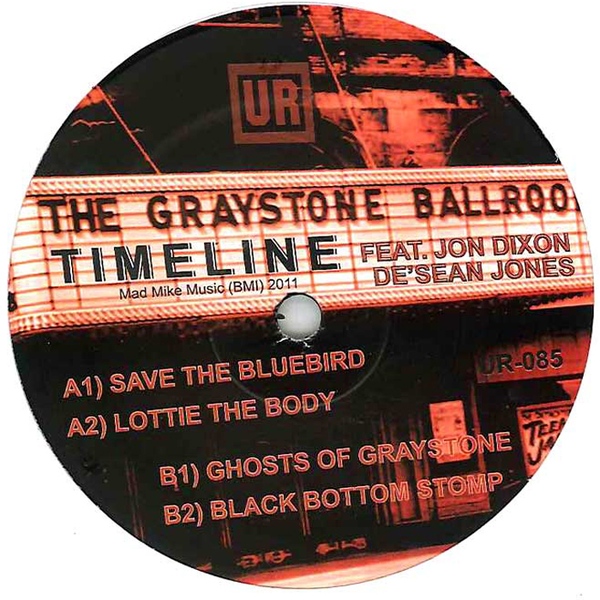 Timeline – Greystone Ballroom / Mark Flash – King of Light
While one can't say that they ever really went away, there is a sense in certain quarters (those that sat up and took notice) that these latest 12″'s have been somewhat of  a return for the aging kingpins of Detroit techno.  This is the first UR wax I've purchased since 2007′s Hi-tech Dreams, which considering they are still my most treasured label ever, shows that even a devoted fan as myself can't deny the fact that much of their output has been lacking lately. They can be commended for avoiding re-treading old ground, but that isn't enough if the quality simply isn't there. Even those single disc re-issues of old double-packs last year were misjudged, imo, and Clone got in ahead of them with Drexciya re-issues at a time when Stinson's stock has been as high as ever…
My pick of the two is the new Timeline which is firmly rooted in that notion of Hi-tech Jazz that UR have pushed since the 90s. Actually this has stripped back the "hi-tech" element more so than other times with heavy doses of live instrumentation sitting side by side with the electronics. The A side cuts are pretty great with the opening Save The Bluebird kicking things off in a deep techno style, possibly the most electronic sounding of the 4 cuts, it gently builds up with quirky stabs of synths and piano and a rising string line before breaking off into a slightest bit of brass. It's unassuming in it's deepness but the best UR track I've heard in at least 5 years.
The A2, Lottie The Body ramps up the funk and is a killer cut for mixing with, carried for the most part by a funky drum work out and some cool brass/vocal snapshots to grab the floors attention. The nearly-too-noodly jazzy breaks in it didn't bother me at all even though it's not something I'd usually go for, but it's groove is undeniable. The B-side of the 12 brings down the energy again into similar territory of Save The Bluebird, but the cuts either suffer from being a tad too simplistic at times to venturing into that too cheesy side of jazz for my liking. It's not a CLASSIC 12, but I'm still quite the fan. And the city of Detroit is rarely far away from the soul of the output of UR and the whole package is a pretty neat tribute to the older Jazz community of the city.
Mark Flash's King of Light again sees UR marking their territory, delivering 3 brash techno numbers, the type of expansive string laden techno that was one of their calling cards at the end of the 90s. I think it is the fact that they have returned to 2 styles for which they became so well known that makes these releases seem like a "Look, we're still here" statement of intent even though the label never actually stopped releasing music. I'm not as big a fan of this 12. Within the 3 tracks there is one amazing cut, but while each has it's merits none of them quite hit the spot. Dark Symphony comes close with its intense, stirring violin-esque pads  but sadly it doesn't do anything else. I'm a fan of the minimal approach to techno as anyone but this is screaming out for some of the dynamics Flash works on the title track, itself let down by the somewhat predictable melodic progressions. I know one or two people who are bigger fans of this than myself and in general these 2 releases have seen folk talking about UR again so I'm hoping this will see a new phase coming after what seemed to be at least 5 years of waywardness.
GB – Seven in Twenty Four / Dogon
My first introduction to the music of Gabriel Whittaker was when I was asked to warm up for him back in 2010 when he made his debut gig(s) in Ireland.  Since then – and slightly previous to that  - he has, with little or no fanfare, put out a stream of consistently excellent releases, be it as GB, The Abstract Eye or the other couple of aliases he uses from time to time. His sound has got a real musky analogue warmth to it, his machines also imbeding the music with a jagged rawness, creating a captivating and quite unique feel. His latest comes on Dublin imprint All City and is on an electro tip, opening with Seven in Twenty Four; a simplistic yet captivating slice of post Drexciya funk that unlike a lot of other Stinson/Donald inspired electro it's more a nod to the duo's work in an aesthetic way, less so musically. It's hook is barely noticeable on first listen but becomes more engrossing on repeat listens. The Drexciya referencing is a bit more obvious on Dogon, a speedy electro jam that once again contains a minimal musical hook that rushes along above some tense snares. Also, if you missed out on his The Provider 12″ that came out at the end of last year I'd also recommend you look it up.Electro-boogie influences are more of a reference point but once again it never gets in the way of him stamping his own identity on the music. This guy has got a damn bright future ahead of him.
Versalife – Night Time Activities Pt.3
A lot of fuss was made over Borris Bunnik's Conforce monikor last year but you may or may not have noticed that none of it was on here and that's because we don't think it's worthy of the hype. At all. On the other hand, I've been quite into his Versalife work and while, in a similar manner to Conforce, it is hardly groundbreaking it's just much more well-rounded and captivating. Part 3 continues in the same vein as the previous releases; stark and moody electro, kicking off in cinematic style with After The Future before the waves of sci-fi synths and sinewy bass are driven by a 4/4 kick on Electrostatic Discharge.
Ultimatum returns to more restrained territory in terms of pace but goes in a slightly heavier direction, keeping the release in maybe more head-music territory. Electro like this tends to be over looked from time to time due to it's lack of direct floor moving ability but the kick that drops at 3 minutes on Ultimatum should get the more discerning dancers moving. Gladly the sheer quality of this series has meant that it ain't gone ignored – does no harm having a behemoth like Clone pushing you  or you being a bit of a techno darling for much of the electronic music press. Anyways, the whole thing closes on it's strongest number, Unsolved Mysteries. Fittingly titled, he adds a brilliant bass hook that warps in and out over  his usual expansive synth lines and crisp programming with enticing and eerie keys rounding it off as it comes to a close.  On a side note, the latest Hardfloor remix 12″ comes with 2 Versalife work outs, adding in their trademark acid to his pallete. The Pip Williams remix on the flip is the standout version though. Over the last few years Hardfloor have done a sterling job in recruiting various artists to re-work thier shit into stand up electro jams, which has been a pretty pleasant and unexpected surprise. I felt that with the likes of Instra:mental looking towards electro as inspiration over the last 18 months that there would be somewhat of a resurgence in it's popularity, especially with younger folk. I'm not sure if that has really happened, but I'm back digging the electro these days, and we'll see a bit more of it on here with some other upcoming releases worthy of note.
Read more: http://infinitestatemachine.com/2012/02/28/records-underground-resistance-gb-versalife/